PREMIUM
————————
Premium is high-class coffee line mixed with special aroma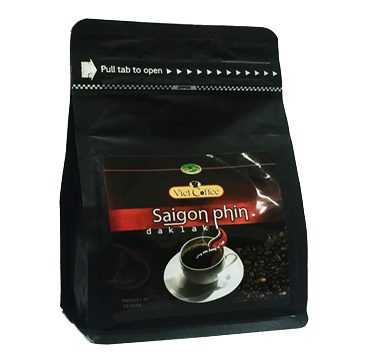 In Saigon, you may encounter many different ways to enjoy coffee: at a coffee stall, small coffee shop, or a high-end coffee shop. Therefore, you can can enjoy the various styles of coffee here.
In Saigon, coffee culture is part of everyone's day and becomes an integral part of life. So, we created Saigon Phin Daklak with the desire to bring a line of quick and simple coffee to refresh and satisfy thirst with the comforting soul of Saigon.
Saigon Phin Daklak is made from good coffee beans which cultivated and harvested appropriately, through clean processing, dark roasting as traditional style to making it great for your health.
Origin: Buon Ma Thuot, Vietnam.
Ingredient: Robusta.
Weight: 250gr.
Roast: Dark Brown.
Type: Ground.
Grind: Medium.
Best with brewing: Vietnam filter.
Export quality.
Price: 2.5 USD (included VAT).