SPECIALITY
————————
Speciality is excellent coffee line loved through hundreds of years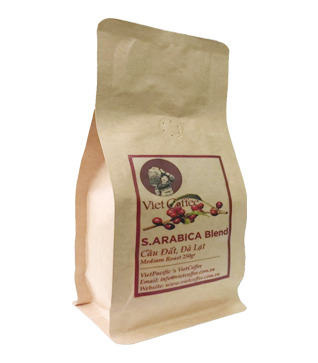 With its mild acidity and seductively passionate aroma, Arabica coffee beans have become very popular in many countries throughout the world.
In Vietnam, the Arabica variety has been growing for many years in different regions of the country, and the beans of each region have its own unique flavor and aroma which are comparable to the best Arabica beans of the world.
S.Arabica Blend is a special line blended entirely from Arabica coffee beans from Vietnam. These Arabica coffee beans are cared specially in the Vietnamese coffee plantations where the soil and climate are suitable for the development of Arabica coffee. Then, it was harvested and goes through the clean processing, medium roasting to create a premium blend coffee, with the pride of Vietnam Arabica coffee beans.
Origin: Da Lat, Vietnam.
Ingredient: Arabica 100%.
Weight: 250gr
Roast: Medium Brown.
Type: Beans.
Best with brewing: French Press, Pour-Over, Espresso machine, Moka, Syphon, AeroPress, Cold Brew.
Export quality.
Price: 8 USD (included VAT).