SPECIALITY
————————
Speciality is excellent coffee line loved through hundreds of years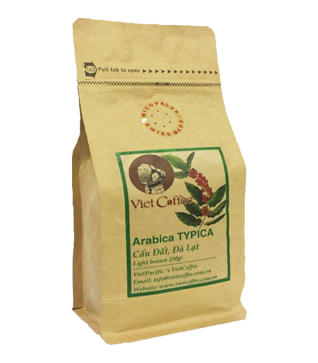 Typica was knew as long-standing coffee variety with natural seductive aroma, taste is smoothly sour, mildly bitter mixed with sweet at oesophagus after drinking, so typica is collected for enjoy by coffee gourmet.
Typica beans have small size, slightly curved oval-shape, is seed for generating famous coffee varieties as Blue Mountain Jamaica, Kona or Villalobos….Typica seed was carried for cultivating at Cau Dat, Da Lat, Vietnam at 19th century by French.
Typica is one of speciality products of VietCoffee, with beans was selected from age-old coffee farm which cared manually by some peasant family at Cau Dat, Da Lat. With suitable climate and soil condition, Typica beans have cultivated and harvested appropriately, through honey processing, cinnamon roasting for complete conserving special Typica coffee aroma.
Origin: Cau Dat, Da Lat.
Ingredient: Arabica Typica.
Weight: 250gr
Roast: Cinnamon Brown.
Type: Beans.
Best with brewing: French Press, Pour-Over, Espresso machine, Moka, Syphon, AeroPress, Cold Brew.
Export quality.
Price: 10 USD (included VAT).